Car seats help to make the interior of your vehicle more appealing. Car seats and other upholstery in your vehicle are a way that can make your vehicle stand out from the rest. There is no shortage in the market when it comes to choosing auto upholstery fabrics for your car seats. From cheap to expensive and functional to cosmetic, there's always something for you. But what is the best material for a commercial vehicle? Let us find out in the post below.
What are the different types of car seat fabrics?
There are various upholstery fabrics you can use for your car seats. Here are the most popular:
Nylon
Nylon is among the most common materials you'll find on car seats. Manufacturers prefer it because it's durable yet inexpensive. Nylon car seat cover material offers excellent resistance to damage from pet claws, as well as moisture absorption. They can be used for both indoor and outdoor purposes. Furthermore, nylon is easy to and maintain.
Leather
If you want a durable fabric, leather is the best material for your seats. Real leather upholstery can last longer than any other type of automotive fabric and does not tear easily. It offers excellent comfort thanks to its ability to breathe naturally! You'll find that most people prefer leather material car seat covers in their cars because they are attractive, comfortable and easy to maintain. This car upholstery choice is typically associated with high-end vehicle interiors.
Vinyl fabric
If you like your vehicle to be waterproof and easy to clean, automotive upholstery vinyl is one of the best fabrics you can buy. It does not absorb water very easily; instead, it repels moisture and prevents rusting or damage from spills. Vinyl fabrics are known to resist wear and tear better than any other material on the market today.
Polyester
Polyester is another impressive choice for those on a budget. It offers great value for money and gives you complete control during maintenance. Unlike other fabrics, it does not fade when exposed to sunlight or oil spills. And if your car seats need a quick clean, all you have got to do is wipe them down with a damp cloth!
Faux leather
Faux leather is easy to maintain and offers great value for money. Some of the perks you'll enjoy from faux leather include being waterproof and resistant to damage from pet claws or wear and tear. You can easily clean faux leather with regular soap water because it repels dirt and grime. If you can't afford real leather, faux leather is as close as you can get.
Suede
Suede is a luxurious fabric option for your car seats. It's made from the underbelly of the sheep, which gives it its soft texture. Suede car seat upholstery is resistant to wear and tear thanks to its strong fiber structure. Furthermore, suede upholstery offers great comfort because it doesn't absorb moisture or oil.
What is the best fabric for commercial use?
If you buy a vehicle for commercial purposes, it helps to find car fabric to protect the car seats. While there are many factors you may want to consider, your priority should be on durability. As mentioned earlier, vinyl fabrics are among the most durable car upholstery fabric in the market today. It also comes in a variety of colors and doesn't require much to maintain. As such, it would seem like the ideal car seat fabric for commercial use.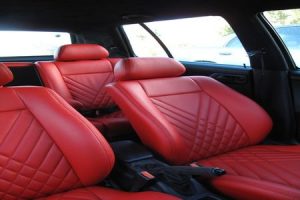 What should I look for when it comes to car upholstery fabric?
There is no shortage of options when you go shopping for car fabric. But to get what you're searching for, you need something that best suits your needs and preferences. Some of the important features to consider include:
Quality
When it comes to seat cover material, quality is of utmost importance. You might have a budget in mind, but don't scrimp on the fabric just because you're trying to save money. Cheap car upholstery may not last as long as its more expensive counterparts and will require frequent repairs.
Style
Your auto interior sets the tone for your personality. That means you will want to choose car fabric that complements who you are and reflects your style. If it's not in line with what you like, there is no point in getting it.
Maintenance
Maintaining your car fabric shouldn't be too much of a problem if you've got enough time and patience. But if you're busy or lack the know-how, it can become quite frustrating. Before buying car upholstery, make sure that it's easy to clean and maintain – this will save you plenty of frustration down the road!
Texture
You want people to enjoy the experience of riding inside your car! That means you'll need fabric with a soft texture for the comfort of the passengers. As such, make sure that the material feels great against the skin before proceeding with any purchase! Also, when considering texture, try to keep in which one would last you the longest. If you have children that still require car seats, you might want to avoid textures that will rip or crack.
Color
The color of your car fabric will determine how well it matches with the rest of your vehicle's interior and exterior. While you can change car upholstery at a later stage, this means more expense and hassle. If possible, choose something that goes nicely with your vehicle to save yourself some trouble!
Price
Price is an important consideration when shopping for car seat fabric. But it shouldn't be everything to you. If your budget doesn't allow much room, go with a material that offers great value and has excellent durability despite being affordable!
Call your local Upholstery Professionals!
At Bright Auto Upholstery, we have the best selection of Commercial Upholstery Portland car seat material to give your car's interior that upscale look. Whether you're looking for something classic or contemporary, our professionals can help you find what you're looking for. Give us a call or visit our shop and see what we can do for you!