Auto Upholstery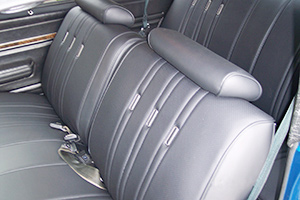 Don't let the "award winning" part scare you off. While Bright Auto Upholstery is in demand for classic vehicle upholstery restoration projects, we also repair the smallest tear in the upholster of your family sedan. No matter the size of job, we offer the best value service and treat every project as a candidate to win an award. That is the kind of auto upholstery service we offer near Gresham and the surrounding areas.
We have a wide range of materials to install or repair any type of upholstery in any color and any texture. Tell us about the auto upholstery you want in your vehicle, we can make it happen!
Custom Auto Upholstery in Gresham
From custom stitching to a seamless patch, our skilled team delivers the highest standard of quality. We have more than 40 years' experience repairing and restoring auto upholstery in the Greater Portland area. In that time, we have built up a reputation for excellence. Just take a look at our portfolio—and feel free to ask for references!
Our skilled craftsmen expertly work with each material and know how much (or how little) give to allow for a perfect fit. They have a broad base of knowledge in everything from how heat and moisture will affect the tension of a seat, to how to get the roof stitching taught so it will never sag. We understand that quality is in the details, so we take pains to get it right every time. Our custom work doesn't stop there. We also provide custom retail display fixtures for trade shows allowing you to show off your business in a unique way!
---
Our auto upholstery services include:
Seats
Roofs
Dash Boards
Accents
Door Panels
And Much More
---
We aim for complete customer satisfaction, so if something isn't perfect let us know. We'll make it right!
Get your beloved vehicle back looking like new with updated or repaired auto upholstery near Gresham. Find us conveniently located in NE Portland just a few blocks south of Hawthorne.