Custom Retail Display Fixture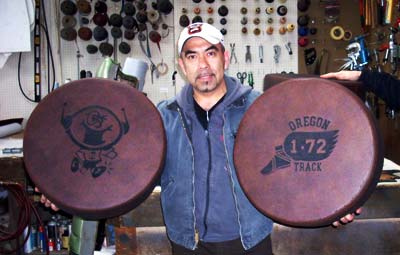 For a custom retail display fixture, Portland businesses know that the experts at Bright Auto Upholstery can bring any design to life. We work extensively with small and large retailers to build them a custom retail display fixture that makes a business their own.
Custom retail display fixtures built for your business.
We can create and upholster nearly anything, meaning the only limitation is on your designers. Building furniture is a specialty, and we frequently carry out hand crafted and customized designs to the millimeter, providing our clients with comfortable, long lasting furniture they won't find anywhere else. We don't stop there though. From creating wall hangings to store displays and hand crafted creative odds and ends, our shop is fully equipped and our retail display fixture creation experts are versed in a variety of tools and materials. Your business is unique. With our custom retail display fixture in Portland your customers will see that and associate with it, tying your products and services to the originality and rarity of your decor.
Custom Trade Show Displays
A trade show is your chance to show prospective customers and marketing partners your product. With the right custom trade show display, Portland businesses can get the chance for additional funding, expansion, and press. You want to make an impression that speaks volumes, and our custom trade show displays are designed to help your voice rise above the rest.
Custom trade show displays that bring in the business.
With a custom trade show display, Portland business owners can do more than just show off a product, service, or brand—they can make it an event. Our trade show display builders work extensively with a wide variety of companies from all sectors. We've provided custom trade show displays for Portland shoe retailers, perfumeries, ice cream companies and many more. From a whole entire vehicle to stylized and original shelving, display pieces, and booths, we can easily scale for your needs creating a single custom trade show display or an entirely original, cohesive, and personally branded display.
When you're looking for the highest quality materials and craftsmanship designed to last, (503) 231-6055 or Contact Us for a custom retail display fixture and custom trade show display in Portland today.
Other Services Include: