Get your custom upholstery started today!
Auto Upholstery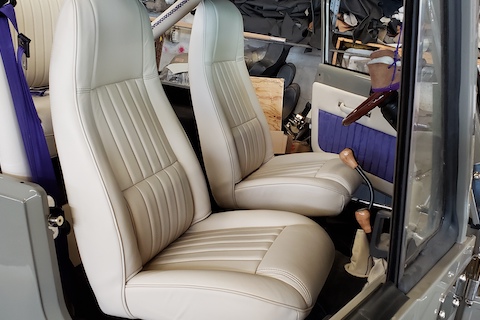 For quality auto upholstery, Portland relies on Bright Auto Upholstery. That's because auto enthusiast know that the upholstery is the heart of a vehicles interior. Our experienced and dedicated auto upholstery company can restore a vintage vehicle to its original specifications, provide a custom interior that accentuates an auto, and create flawlessly fitting pieces that look like they were always a part of the design.
Some of our Auto Upholstery Services
Your Local Source for Auto Upholstery Portland
For professional auto upholstery, Portland vehicles benefit from a legacy of experience and superior work. We've been performing auto upholstery since 1976. Though the vehicles that come into our shop may have changed, our dedication to quality hasn't. We work with all upholstery materials, and can match existing interior patterns or create new ones to give your vehicle a unique edge.
Get incredible custom auto upholstery for your vehicle!
Our experienced auto upholstery professionals know how to take incredible care of your vehicle. Whether we're designing and installing seat upholstery, headliners, trim areas, door upholstery or flooring, we take the utmost care with installation. Many of the vehicles we work on have custom paint jobs and other unique features, we take the time to ensure these are taken care of throughout the upholstery process.
Not every customer comes in for pre-planned auto upholstery. Our upholstery repair will have your vehicle back to its pre-damaged condition in no time. With quality that you can see in every stitch, we work to the highest standards. That doesn't just mean technically advanced and experienced employees. We use the highest quality materials for our upholstery. With a high degree of UV and abrasion resistance, you'll be able to enjoy your new auto upholstery for years to come.
For professional precision and show-room quality results call (503) 231-6055 or Contact Us for auto upholstery Portland today.
---