Classic Car Upholstery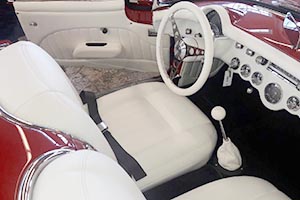 When it comes to classic car upholstery, Portland owners have a variety of tastes. Some owners want to restore a classic car interior to as close to original as possible, others enjoy customizing and personalizing, and some like a mix of the two. However you want your interior to look, for the best results you need classic car upholstery performed with the highest levels of skill and precision. Bright Auto Upholstery has been providing local classic car upholstery since 1972, and just like the vehicles we work on, our legacy of quality and craftsmanship is alive and well.
Custom classic car upholstery how it's meant to be.
For classic car upholstery, Portland classic car lovers have different metrics for what makes a car beautiful. Some want to see it returned to its former glory. Others like something a little different. With a wide variety of high grade materials, we can match or clash however you see fit. Our auto upholstery professionals have the experience to carry out your vision with skill and dedication. Whether your perfect classic car upholstery interior is leather, vinyl, or cloth of any hide type, color, and texture, we can make it a reality.
Custom Classic Car Upholstery
Setting the highest bar for ourselves translates into long lasting work our customers can show off, pass down, and enjoy for the years and decades to come. We know a classic car is more than just a mode of transportation—it's a work of art, and an extension of your personality. It deserves the very best, and that's why we've become the local choice for beautiful, handcrafted, custom classic car upholstery.
When you want incredible classic car upholstery Portland vehicle owners rely on for show quality results and expert level craftsmanship call (503) 231-6055 or Contact Us for classic car upholstery in Portland today.
Other Services Include: