Convertible Upholstery Specialist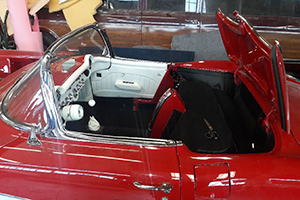 Your convertible is more than just a car, it's a way of life. When others are confined by metal rooftops you enjoy the wind on your face and the sun on your skin. It's what makes a convertible great, but also means convertible upholstery can take more damage than a hard-top. With UV rays, abrasion from debris, rain damage and more, it's important to use a reliable convertible upholstery specialist Portland convertible drivers depend on. That's why residents who need Portland convertible upholstery choose Bright Auto Upholstery.
Your experienced Convertible Upholstery Specialist
We've been a leading convertible upholstery specialist Portland drivers have relied on since 1976. That's because we focus on providing every customer with the highest quality work. With expert level upholsterers working on your convertible, whether you need new installation, repair, or re-upholstery on a driving convertible or in-process build, we can do it. Our convertible upholstery specialists knows the varying materials and tolerances required for a stable, durable, and water resistant top.
Take care of your vehicle with professional convertible upholstery.
Our repairs are created to perfectly match your convertible. We take great care to maintain the integrity of your vehicle while we work on it. That way the only difference when you get it back is the gorgeous new upholstery. Our professional convertible upholstery specialists will help you identify the right material for your upholstery. We only use the highest quality materials that have exceptional resistance to UV rays, abrasion, and long lasting color. With leather, vinyl, cloth, and other options, it's easy to get the upholstery you've always wanted or perfectly matching repairs.
When you're looking for craftsmanship you can see performed with high quality materials by expert convertible upholstery specialists, call (503) 231-6055 or Contact Us for a convertible upholstery specialist in Portland today.
Other Services Include: