Car Upholstery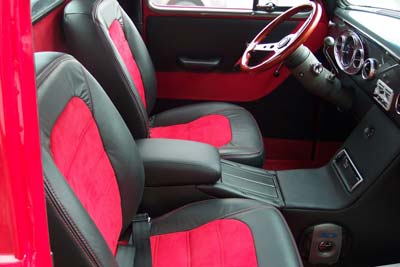 For professional car upholstery, Portland auto owners rely on Bright Auto Upholstery. That's because car enthusiasts know that custom upholstery is the center piece of automotive interior design. Our dedicated and experienced auto upholstery company can provide custom interiors for your vehicle or restore the original interior of a vintage or modern car. We create flawlessly fitting upholstery that looks like it was designed specifically for your car, because at our shop it is.
Your Local Source for Portland Car Upholstery
For professional car upholstery, Portland cars benefits from a legacy of superior work and experience. We've been providing car upholstery since 1976. Though the cars that enter our shop may have changed, our dedication to quality has never wavered. We work with a wide variety of upholstery materials and can create new interior patterns or match existing ones for a flawlessly originally specified interior.
Get professional custom car upholstery for your vehicle!
Our experienced car upholstery professionals take amazing care of your vehicle. Whether we're creating and installing seating upholstery, trim areas, door upholstery, flooring or headliners, we take the greatest care with installation. Many of the cars we work on have customized paint jobs and other specialized features. We take the time to make sure these are well cared for throughout the entire upholstery process.
Not every auto upholstery is pre-planned. Tears, fraying, color degradation, loose stitching and more can lead to less than desirable upholstery. With car upholstery repair, we'll have your car quickly back to its pre-damaged condition. We work to achieve the highest quality, and our elevated standards can be seen in every stitch. That doesn't just mean experienced and technically advanced employees. We use the best materials for our upholstery. Rated highly for abrasion and UV resistance, you'll enjoy your new car upholstery for years to come. Our upholstery services extend beyond cars, we also provide boat upholstery services!
For show-room quality and professional precision call (503) 231-6055 or Contact Us for car upholstery in Portland today.
Other Services Include: