Convertible Top Repair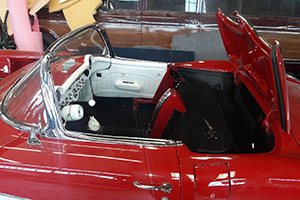 A convertible top can provide the option to feel the wind in your hair or protect you from rain, but only when it isn't damaged. It's important to get convertible top repair Portland drivers trust, and at Bright Auto Upholstery we've been professionally reparing damaged convertible tops since 1976.
Get expertly performed convertible top repair.
When it comes to convertible top repair, Portland technicians in our shop know exactly what they're doing. Truly effective convertible top repair isn't just about functionality, it's about aesthetic quality as well. Our repair work is designed to last, keep out the elements, and look good doing it. Depending on the damage we may use a variety of methods, and if your existing material is damaged beyond repair we can replace some or all of your convertible's top material.
Comprehensive Convertible Top Repair
We repair convertible top tears most often, but that doesn't mean our ability to provide repairs is limited. Sun and acid from bird droppings can also damage your convertible top. With access to the highest quality materials, we can repair your top so that damage is invisible. When repairs are extensive and a top replacement becomes a more cost effective option, our experts can even change your top material or color, providing your vehicle with a unique custom look.
Our shop is equipped to work on all vehicle make and models, utilizing any type of convertible top material. Whether your top is made out of cloth, vinyl, leather, or another material, we can repair it. Our stitch work is designed for strength and durability, and we only use the highest grade materials for convertible top repair Portland vehicle owners can rely on. If you need repairs for your convertible top, don't use inferior home repair kits. Call (503) 231-6055 or Contact Us today for professional repairs designed to protect and last.
Other Services Include: