Corvette Upholstery Specialist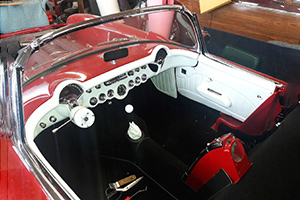 A Corvette owner knows their car is more than just a way to get from point A to point B. It's a streamlined machine, created to handle perfectly, provide incredible acceleration, and look stunning while doing it. When the upholstery gets damaged or worn it can feel like your treasured vehicle has been wounded, but with a Corvette Upholstery Specialist, Portland Corvette owners can see their vehicles returned to perfect condition. At Bright Auto Upholstery we specliaze in providing high-end custom Corvette upholstery whether you drive a vintage 1963 Stingray or a brand new Z06.
Custom Corvette upholstery for your car.
Corvette's are designed for precision. Every part has to work in harmony to create the ultimate driving experience, and your interior is no exception. As a Corvette upholstery specialist, we exercise that same degree of precision when we upholster your vehicle. Whether you're looking to keep your vehicle stock, or want a customized upholstery that puts your personal stamp on your Corvette—we do it with accuracy, skill, and dedication. Everything from the materials to the thread we use are of the highest quality. Your Corvette upholstery should be worthy of the name, and from repairs to re-upholstering, we maintain the level of quality the Corvette name commands.
Modern and Vintage Corvette Upholstery Specialist
We work extensively with Corvettes of all ages. As a Corvette upholstery specialist, Portland sports car owners have been trusting us to upholster with care and confidence since 1976. Our highly trained and skilled Corvette upholsterers work on new and vintage vehicles alike, and know how to work around these vehicles with delicacy and precision. That way we maintain the integrity of your vehicle from the paint job to the dash, and everything in between. Corvettes aren't the only cars we specialize in, we also provide expert Mustang upholstery services.
When you demand quality from your upholsterer, materials, and vehicle, call (503) 231-6055 or Contact Us for a Corvette upholstery specialist in Portland today.
Other Services Include: