Auto Upholstery Repair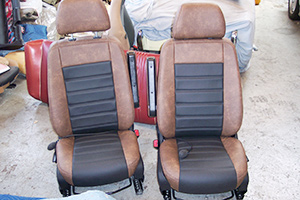 Bright Auto Upholstery offers award-winning auto upholstery repair near Beaverton. We repair and refurbish seats, convertible tops, side paneling, and more. Restoring our vehicle's upholstery to its original beauty is what we do.
We can replace worn out or torn upholstery in the vehicle you drive for daily use, and we can restore or remodel costume classic vehicles to fit your specific design ideas. If you aren't sure how you want the end result to look, our experienced upholstery repair professionals can discuss options and help you decide on a design. Whatever you have in mind for your car, we can make it happen. In addition to our repair services, we also provide car seat cover installation.
Quality Auto Upholstery Repair Beaverton
Our auto upholstery repair begins with the best materials. We offer a seemingly endless variety of options in fabric types, textures, and colors. From patching a minor tear to replacing seats with leather, our auto upholstery repair delivers quality down to the smallest detail.
With more than 40 years' experience in auto upholstery repair, we have earned our reputation as the best in the area. We are dedicated to our community, and that shows in our excellent customer care. We take the time to listen to you and your needs. Ask us as many questions as you have, we are happy to share our knowledge with you!
Get rid of those unsightly cigarette burns or restore the classic beauty to your beloved car with auto upholstery repair near Beaverton and the surrounding areas. We know people love their cars! That's why we treat each one like it was our own prize possession.
Call today for a free estimate on your auto upholstery repair near Beaverton. Come to us and drive away in style!
---
We also offer these services in the Beaverton area:

More About Beaverton | Travel to Beaverton | Things to Do in Beaverton