Auto Upholstery Repair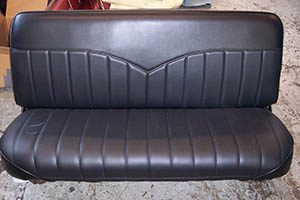 Whether you are remodeling a classic or repairing a seat in your everyday car, Bright Auto Upholstery has the experienced experts to handle your auto upholstery repair in Portland. We carefully handle everything from custom upholstery projects to fleet upholstery repair and more. Whether it is a full reupholstering or a small section, and no matter the type of fabric, our auto upholstery repair can be customized to fit your needs.
From flooring to convertible tops, we replace or repair any upholstery. We have a large selection of fabric styles, colors, and type to choose a new look or match your current one.
Trusted Auto Upholstery Repair in Portland
Our goal is for total customer satisfaction. In the more than three decades of experience handling custom auto upholstery repair in Portland and the surrounding Metro area, we have earned a reputation for quality. Your car is your baby. We get that. That is why it comes down to the details. Our long list of hundreds of satisfied customers and multiple awards all come down to meticulously taking care of every stitch with complete attention to detail.
Our expert auto upholstery repair professionals understand how each type of fabric will act and react, once it is in place. We allow for the optimal amount of tension in each fabric type to produce a good-looking and long lasting effect. We are devoted to bringing back the original beauty of your vehicle's upholstery.
We handle any job of any size, so bring your vehicle into us for stellar auto upholstery repair in Portland and rest assured your car is in the best hands.
Contact us today and let us bring back to luster of your auto upholster.
We also handle these upholstery services in Portland: