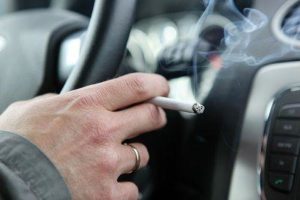 Car Smell Like Cigarettes? Try These Tricks.
So you found a car that you really like. It's the year, make and model you've always wanted and it even comes with hard-to-find trim options that make it one for the collection. The only thing is, it smells like an ashtray.
There's a reason why smokers typically have to sell their cars for less – the smell is nearly impossible to get out, which means, no one wants to buy them. In fact, smoke-laden daily drivers see about 83% fewer potential buyers due to the permeation of smoke into both the ventilation system and the auto upholstery.
Your Best Bet Is To Reupholster The Interior
There's no getting past it. If you want the best chance at your car to smell normal, the carpet, the seats, the headliner, the dash, the doors and just about everything inside the car will need to be replaced.
For people looking for a lower-budget option, however, there are a few tricks to be used to extract the stale smell of smoke from your ride.
Surface Level Cleaning
First of all, if your car has an ashtray or is housing cigarette butts anywhere inside, make getting rid of that your first task. After that, give it a pass with a thorough vacuuming and wipe down of all hard surfaces like the dashboard and door panels.
Break Out the Chemical Cleaner
After you've gotten the interior at least looking better, it's time to for a chemical wipe-down of the dashboard and all upholstery. For hard surfaces and touch points, most home cleaners will do the job. For fabrics and seats, start by using a light fabric freshener (it's easy to use too much, which then leads to the unmistakable combination of chemicals and smoke). A little may go a long way.
Unconventional Methods
After you've run through the initial cleaning methods, it may be necessary to take it a few steps further. For that, there's a few things to try. After giving the other methods some time to work, using a pet odor eliminator might help. Similarly, strategically placed dryer sheets might also be enough to absorb part of the smell.
One treatment worth giving a try for vehicles with fabric upholstery is baking soda. Used in deodorants and commonly left in refrigerators to capture smells from food gone bad, baking soda may be just what the doctor ordered. Application is easy: Sprinkle directly on the fabric, rub it in with a brush or cloth, let it work – and then vacuum it up.