Convertibles are generally high-maintenance cars! They need gentle care to keep up that sleek and attractive look. One of the areas most exposed to damage is the reclining top. Considering that it is made out of cloth, rips, tears, and scratches are commonplace in this area. So, what happens when you realize your convertible top is ripping? This blog post will explain how and where to seek convertible top repair.
What material is a convertible top made of?
A convertible top is made of very thin yet durable material. It has to be strong enough to withstand the elements and protect your interior from water damage. It is also flexible enough to fold in half accordion-style when put up (and out). Convertible tops are typically made out of one or two layers of canvas that have been treated with a special water repellent called "Scotchgard." Alternatively, some cars use vinyl, which has almost similar properties to canvas.
What are the signs my convertible is ripping?
If you don't regularly inspect your car, you may not notice the small tears and rips on your soft top. However, as these grow bigger and longer, the damage becomes more apparent and may cause problems like letting water into the car. Some of the tell-tale signs are:
-A noticeable rip or tear in your soft top, particularly near an area where it folds up onto itself
-The fabric is coming off from its support underneath. This can be because of age or water damage to the glue holding the material down
-If you see any water spots inside your car by where your car top meets up with the window
How do I fix my ripped convertible?
Once you notice any of these signs in your cloth/vinyl convertible top, it is time to get it fixed. It's always a better idea to seek professional help when dealing with a convertible top repair. Although you may want to perform this task yourself, you will be risking causing more damages that will be more expensive to repair. If you do decide to try to fix the damage yourself, before you begin to repair a convertible top, you'll need the following repair kit:
Upholstery thread
Gorilla Glue/fabric adhesive
Marine canvas
Scotch guard
Curved upholstery needle
Thimble
Duct tape or masking tape
With the above repair kit in place, use the following steps for convertible top repairs:
-Remove the headrests and rear deck cover
-Remove all of the screws holding down your convertible top and set them aside in a safe place (if you lose any, there is no replacement). You will need to remove the armrest as well.
-Take off both parts of your convertible top from each other by unzipping it.
-Remove the zipper from one side of your soft top.
-Replace the fabric by cutting out a small piece of material equally or slightly bigger than where you are fixing on both sides using scissors. If it's too long, use duct tape to make up for any length required before sewing it back together. Make sure you cut out the fabric in a way that makes it symmetrical.
-Use the glue for patch repair and stick down your new fabric on both sides and leave overnight to dry. Note, if using this product, follow safety precautions accordingly when working with them!
-Alternatively, use marine canvas. Marine canvas has a more textured surface that gives it an attractive appearance.
-Use the upholstery thread to sew your new fabric down on both sides. A curved needle will make easier work of sewing through multiple layers of cloth/vinyl and is generally better suited for thicker materials like marine canvas.
-Once you f sewing, use Scotch-guard to protect your soft top from damage. This is water repellent and will help keep the elements away to prevent any further ripping. There are also new products on the market like ripstop tape or duct tape that can be used as temporary fixes for rips in your vinyl top.
-Reassemble your convertible and replace the screws you had taken out earlier using a screwdriver. You can now resume driving your restored convertible!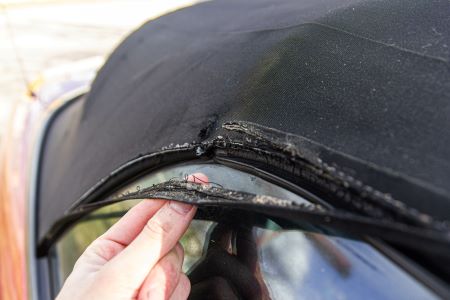 Can I fix a rip on a top cloth myself?
If you are looking for an inexpensive way to fix your soft top, consider doing it yourself. You can buy all of the tools and materials in the repair kit at a local upholstery shop and get to work. However, if you are unsure about your abilities, there's no need to risk worsening the damage. You'd rather leave the delicate task to a professional.
We Can Fix Your Convertible!
At Bright Auto Upholstery, we offer solutions to all your car's upholstery needs. From seat cover fabrics to convertible top cloths, come to us anytime you need convertible patch repair or replacement. Our technicians have years of experience, so you can be assured that your vehicle will be in good hands. Contact us whenever you need our convertible top repair Portland services!
FAQ
What is the best material for a soft-top?
A soft-top consists of a fabric that allows for easy installation and removal. The best material to use is Sunbrella, explicitly designed for vinyl tops and has the flexibility for this kind of functionality.
 How do I fix a ripped convertible top?
To fix your ripped convertible top, you'll need to replace the material with a new cloth and use the glue or adhesive along with upholstery thread and Scotch guard. Using marine canvas is recommended as it has a more textured surface that gives it an attractive appearance compared to the standard smooth fabric.
 How much does a new convertible top cost?
Replacement convertible tops can vary in cost depending on the material convertible owners choose. Sunbrella is more expensive than plain fabric, while marine canvas falls between both materials in terms of price.