If you're bored with the interior of your vehicle, there are plenty of ways to personalize it and make it your own. Adding a few personal touches can help you feel more comfortable and relaxed when driving and make the experience more enjoyable. You can add a blanket, plants, customized seat covers or other car upholstery upgrades. With a little effort, you can transform your car into a space that reflects your personality and makes every journey more enjoyable.
Add Colorful LED Light Strips
Installing LED floor lights is one way to transform your car into a tranquil oasis. These lights are available in various colors, so you can choose the perfect shade to create the desired ambiance. Soft pastels will add a romantic glow to your car, while brighter colors will help to energize and refresh you. LED floor lights are easy to install and require very little maintenance, making them the ideal way to add a touch of luxury to your car.
Incorporate Photos of Loved Ones
It's always nice to have a friendly face to greet you when you get in your car. And what could be more friendly than the face of a loved one? Whether it's a photo of your spouse, your kids, or even your favorite pet, adding a personal touch to your dash or sun visor can make a big difference in your day-to-day commute. If you're worried about the photos getting damaged, you can always laminate them or keep them in a protective sleeve and stick them to your dashboard or sun visor.
Vinyl Wrap the Inside of Your Car
Vinyl car wraps have come a long way in recent years, with innovators developing all sorts of new colors and patterns. From metallic and reflective to matte and gloss, there are now vinyl car wraps to suit any taste. And with factory-matching and Pantone colors available, it's easy to find the perfect wrap for your car. But that's not all: vinyl car wraps can also help to protect your car's paintwork from scratches and weather damage. So if you're looking for a way to make your car stand out from the crowd, vinyl car wrapping is the way to go.
Install a Functional Backseat Organizer
Backseat organizers are the perfect addition to any car's interior design. You can use it to store items such as a first-aid kit, snacks, or a change of clothes. Not only do they add a touch of style to your car's interior, but they also make it more functional. With a backseat organizer, you can easily access your belongings without having to rummage through a pile of stuff. Furthermore, backseat organizers help to keep your car's upholstery clean and free of dirt and stains. So if you're looking for a way to spruce up your car's interior and make it more organized and functional, then consider investing in a backseat organizer.
Upgrade Your Sound System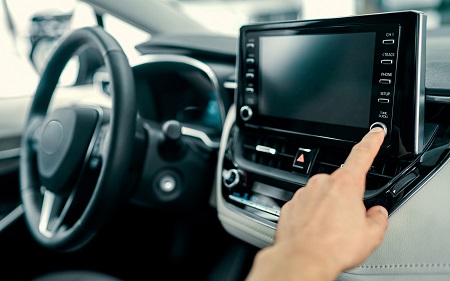 If you're a music lover, you know the importance of having a great sound system in your car. But if you're on a budget, finding a quality system can be tough. Luckily, there are a few ways to get around this. First, try googling "best affordable car sound systems." This will give you a good starting point for finding systems that fit your budget. Also, check out online forums and reviews to get an idea of what other people are saying about different systems.
Don't Forget the Little Things
Your car's interior doesn't have to be boring! With a little creativity, you can turn your car into a rolling work of art. Here are some fun, artsy ways you can spruce up your car's interior:
Add car charms and air fresheners
hang plants on the rear-view mirror
Install a phone mount
Buy a mini car fridge
Add car coasters
Tack on headrest collars
Upholster Ideas
Wanting to go above-and-beyond DIY projects for your car? Consider finding experts who can customize your car's upholstery.
Reupholster Your Seat Covers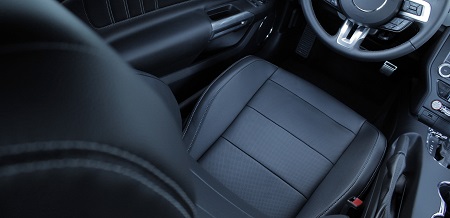 Driving is a practical experience, but that doesn't mean your car's interior has to be boring. In fact, one of the easiest ways to give your car a new look is to install some new seat covers. Seat covers come in a variety of colors and materials, so you can easily find a style that perfectly complements your other upgrades. And if you're looking for a practical solution to improve your driving experience, seat covers can provide much-needed support and comfort. New seat covers are the perfect place to start if you're looking to make a big change to your car's interior.
Customize Floor Mats
Adding a touch of luxury to your automobile does not have to cost an exorbitant amount of money. Having floor mats that reflect your personality can really give your car some character without breaking the bank. You can find mats made from luxurious materials like leather in an array of colors at upholstery stores. And, if you want something truly unique, many companies offer custom engraving, embroidery, and trim options. So, if you are looking to add a bit of luxury to your ride without spending a lot of money, consider customizing your floor mats. You may be surprised at how much of a difference they can make.
Steering Wheel Cover
One way to personalize your is with a steering wheel cover. You can choose from a variety of materials, including leather, to ensure a comfortable grip and an improved aesthetic. With so many prints, colors and materials available, you're sure to find a steering wheel cover that expresses your personality. You can even have your initials or name embroidered on the cover for an extra personal touch.
Reupholster Your Car Door Fabric
Have you ever gotten into your car and been greeted by a torn, faded, or otherwise unattractive door panel? If so, then it might be time to consider reupholstering the fabric. Not only will this give your car a much-needed aesthetic boost, but it can also help to protect the door panel from further damage.
Upholster Your Center Console
If you're like most people, your car's center console gets a lot of use. It's where you rest your arm while driving, store your sunglasses, and keep your phone within easy reach. Over time, the upholstery on your center console can become worn or stained, making it an eyesore. Fortunately, it's easy to give your console a makeover with some new upholstery.
Your Local Car Upholstery Services
Original car upholstery is like a fine wine: it only gets better with age. But even the most well-made car upholstery will eventually show signs of wear and tear. That's where Bright Auto Upholstery comes in. Our experienced auto upholstery professionals specialize in creating custom interiors for all types of vehicles, from vintage cars to modern-day luxury vehicles. No matter your style or budget, we can create an upholstery solution that is perfect for you. We pride ourselves on our attention to detail and our ability to create perfectly fitting upholstery that looks like it was made specifically for your car. Contact us today!
The related services we offer:
Upholstery repair
Custom auto upholstery
Custom seat upholstery
All-new leather seat covers
Visit our About Us page for more information about our company.