Are your car's seats showing some wear and tear? Does the central console need some TLC? If you're like most car owners, you probably don't give much thought to the upholstery until something goes wrong. But did you know that professional auto upholstery in Portland can do more than just fix a problem?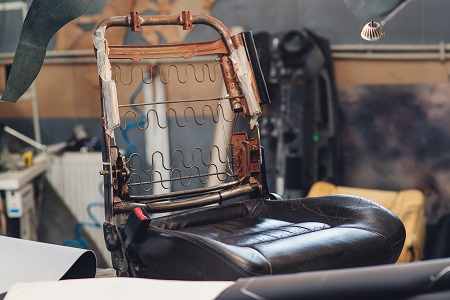 There are multiple reasons to consider getting your car upholstery done by a local professional, from enhancing the look and feel of your vehicle to increasing its value. Our latest blog post is ready to explain four reasons why taking your car to a professional car upholstery service in Portland is worth the investment.
And remember: if you need auto upholstery near Portland, be sure to find a reputable professional like Bright Auto Upholstery who can provide you with the quality service you deserve!
Protect Your Car From Wear and Tear
Professional auto upholsterers will ensure that you receive the best quality in terms of materials and workmanship. Whether their clients drive convertibles, luxury sedans, show trucks or workhorses, our clients know we have the right materials to make their vehicles look great. But more than that, we can identify the right materials to protect your car from wear and tear.
High-quality auto upholstery materials come with different levels of durability and protection. Choosing the right one for your needs can ensure that your car's interior won't suffer from spills and dirt, helping keep it looking like new for years to come.
The Best Materials and Even Better Craftsmanship
Car upholstery is essentially in-built furniture for the car. Just as you would choose an upholsterer using quality materials and craftsmanship when furnishing your home, you want the best for your car, too. Common automotive upholstery materials include leather, faux leather, vinyl, PVC and nylon. Let's take a brief look at each.
Leather, Vinyl and Nylon, Oh My!
Leather
Perhaps no other fabric speaks to luxury like leather. Most high-end luxury cars use leather exclusively. Modern leather treatments can create a material of varying pliability, colors and texture, from soft to rigid. So whether you drive a Bentley or something more modest, leather can increase resale value immensely.
While not authentic, this stand-in doesn't pull its punches. More choice is the name of the game, with the ability to imitate materials as diverse as crocodile or leopard skin. This diversity allows clients to go wild with their ideas! Even better, its synthetic nature means it's hardier and stain-resistant than actual leather.
What can't vinyl do? At times that seems to be the question. More and more luxury brands like Mercedes-Benz are developing high-quality vinyl seating. Like faux leather, it's an easy clean in the event of a spillage and can be treated to feel like different material, such as suede.
Not looking to spend big? Polyvinyl Chloride is the material for you! Its flexibility and low-cost means it works for low-end and commercial vehicles with a lot of wear and tear. For the majority of drivers, it's all about getting the job done.
The most common interior automotive upholstery material, this woven material has the benefit of durability, especially against tears. Because it is also synthetic, it too comes with plenty of colors. High-quality nylon also has more stain resistance, allowing for quick and easy stain resistance.
Claim a Customized Design for the Interior and Exterior
If your car's upholstery is looking a bit worse for wear, you don't have to settle for an inferior job. Professional auto upholstery can be tailored to fit your individual needs and preferences. For example, if you're looking for something more unique than the standard black or tan interior, a professional upholsterer can customize the interior with a colorway matching a new vinyl wrap or the original paint job.
By offering both interior and exterior, our professional auto upholsterers can help breathe new life into your personal sense of style. Whether it's a new pattern, color combo, or unique fabric, you can be sure to get the custom look and feel you're after. Trust Bright Auto Upholstery to help make your car yours inside or out.
Increase Your Car's Value For Resale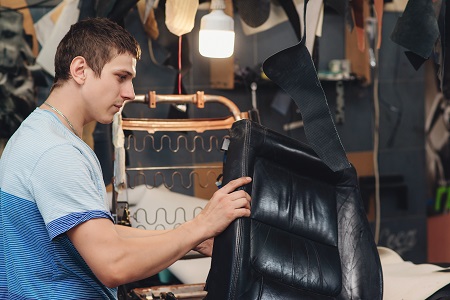 Getting professional auto upholstery done is not only an investment in the look of your vehicle; it can also increase its resale value. Most everyone has heard that when they drive a new car off the lot, it loses half its value. This is an overstatement; according to Carfax, a car will only lose 20% by the end of the first year, with each succeeding year of ownership lessening the value by 15%.
Much like having work done on a home to increase its value, the same can be done for a car. By having a professional do your auto upholstery, you can add to the value of your vehicle and maximize its resale price. A quality job done by a professional will also ensure that your car looks and feels as good as new for years down the road.
Portland's Auto Upholstery Company You Can Trust
Bright Auto Upholstery has been in business for over 35 years. In that time, we have cultivated a team of upholsterers and designers with the knowledge and expertise to do the job right, no matter the vehicle. We have seen a lot of new and classic cars come through our shop, so we know what works and what doesn't.
Our team is also up-to-date on the latest trends in auto design and fabrication, so you can be sure that your vehicle will get the best treatment possible. We guarantee that you'll receive quality workmanship and craftsmanship, as well as professional advice on how to best maintain your auto upholstery.
Check out our reviews on Google, then contact us via our website or at our phone number, (503) 231-6055. We look forward to hearing from you soon!