The sleek lines of a Corvette, the roar of the engine, the wind in your hair as you speed down the highway – these are the things that make driving a Corvette a thrilling experience. But there's something else that sets a Corvette apart from other cars on the road: its upholstery.
Step inside a Corvette, and you'll be greeted by a world of luxurious materials expertly crafted to create a space that's as comfortable as it is stylish. Get your Corvette reupholstered to get that sleek and luxurious look customized the way you want it.
Corvette Center Dash & Console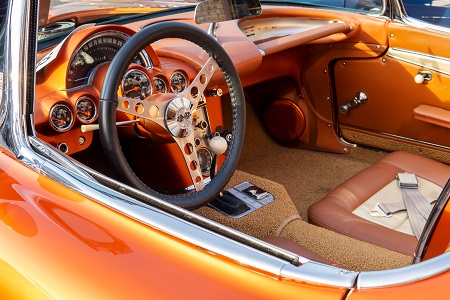 Replacing the carpets in a Corvette is one of the best ways to restore its interior, especially when it has seen a lifetime of wear and tear. New carpeting not only improves the Corvette's look but can also help maintain its value over time. That said, replacing the Corvette carpets is an involved process that requires some skill and work. To ensure a successful installation, contact your local upholstery business.
Carpet Floor Mats
Corvette carpet floor mats are specially designed floor mats tailored to fit the unique shape and size of a Corvette's interior. They are made from high-quality materials that provide protection and style to the car's interior. Corvette carpet floor mats come in various colors and styles, allowing car owners to choose a mat that complements their Corvette's interior. Some mats can even be customized with embroidery or a logo, making them a personalized and unique addition to the car's interior.
Revamping Car Seats
Revamping the upholstery of a Corvette's car seats is a great way to give the interior of the car a new look and feel. The process involves replacing the old, worn-out upholstery with new, high-quality materials that not only look great but also provide comfort.
When revamping the upholstery of a Corvette's car seats, there are several materials to choose from, including:
Leather is a popular choice for its luxurious look and feel, as well as its comfortable feel and easy maintenance.
Vinyl is also popular as it is long-lasting, easy to clean, and comes in a wide range of colors and patterns.
Fabric upholstery is another option that can provide a softer, more comfortable feel and come in various colors and patterns to match the car's interior.
Updating the Headliner
The headliner in a Corvette is the fabric material that lines the ceiling of the car's interior. Over time, the headliner can become stained, torn, or otherwise damaged, making it necessary to replace the upholstery. Replacing the headliner upholstery is a simple process that can greatly improve the appearance of the car's interior.
The headliner can also help to dampen noise from outside the Corvette, such as wind, rain, or traffic. A sagging or damaged headliner can allow more noise to enter the car, making it a noisier and less enjoyable place to be. By replacing the headliner, you can improve the Corvette's acoustic performance when listening to music and create a quieter and more pleasant driving experience.
Upgrading Your Steering Wheel
Upgrading your Corvette's steering wheel upholstery can be a great way to enhance the look and feel of your car's interior. The steering wheel is one of the most frequently used components of a car's interior, so having an upgraded and comfortable grip can improve the overall driving experience.
There are many different materials and colors available for steering wheel upholstery, including leather, suede, Alcantara, and more. These materials offer different benefits, such as improved grip, enhanced durability, and a more luxurious feel.
Upgrading your Corvette's steering wheel upholstery can offer several benefits, including a more comfortable and secure grip and a more customized look. Additionally, a high-quality steering wheel cover can increase your car's resale value and create a more desirable interior.
Get Stylish Door Panels
Many options are available for customizing your Corvette's door panels, including different colors, materials, and patterns. Some popular materials for door panel upholstery include leather, suede, Alcantara, and carbon fiber.
Custom door panels can include additional features such as built-in speakers, illuminated logos or emblems, and extra storage compartments. These features can add to the functionality and customization of the car's interior, making it more convenient and enjoyable to use.
To get stylish door panels for your Corvette, you may need to work with a professional installer or upholstery specialist. This will involve selecting the right materials and colors, as well as measuring and fitting the new panels to the car's interior. A skilled installer can ensure that the new panels fit securely and look seamless with the rest of the car's interior.
Corvette Convertible Tops
The convertible top is a key component of a Corvette convertible, and keeping it in good condition is important for aesthetics and functionality. Over time, convertible tops can become worn or damaged, compromising their appearance and performance. Reupholstering your Corvette's convertible top can be a great way to restore it to its original condition and enhance the overall look and feel of your Corvette.
Reupholstering your Corvette's convertible top can offer several benefits, including improved aesthetics, increased functionality, and enhanced resale value. A high-quality convertible top can help to create a more luxurious and enjoyable driving experience and make your Corvette stand out from other cars on the road.
Bright Auto Upholstery Specializes in Corvette Upholstery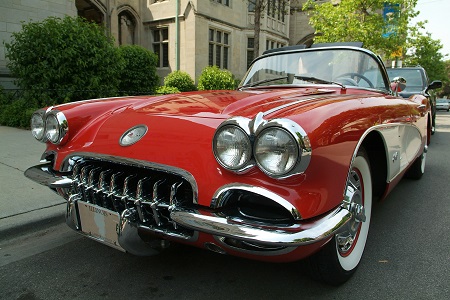 When it comes to Corvettes, Portland owners have come to trust Bright Auto Upholstery when they seek excellence in upholstering. Since 1976, we have been providing precision and care with every job, no matter the age of the vehicle. Our auto upholstery professionals understand how to work around delicate and unique materials so that your Corvette looks its best inside and out – from paint jobs to dashes and beyond. Whether you want new or vintage components for your pride and joy, rest assured that our crew has the talent to meet your high standards of quality. Take a step towards perfection and contact us for a reliable Corvette upholstery specialist in Portland today.
Other upholstery services we offer:
Upholstery services from vintage vehicles to brand-new cars
Customized upholstery for a variety of different cars (Corvettes, Mustangs, trucks, convertible topped cars, commercial vehicles, boats, other classic cars, and more)
Top-quality leather and vinyl upholstery materials
Visit our Gallery for our work examples, and read our About Us page for more information about our company.